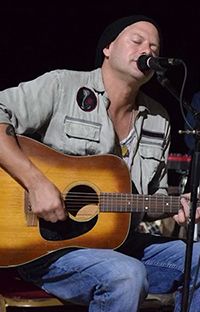 We're highlighting our one and only lead vocalist, Brian Leighton! Through more than two decades now, 12 albums, and 70,000 album copies sold, Brian and his band have been tearing up rock clubs, festivals and private parties. He truly connects with the heart of his fans, delivering a rock'n'roll spirit night after night. Brian released his first album in 1994 called "One Time … One Life," followed by 11 others, including new release "BELIEVE." He made his national debut with "Get Up" and was recognized by Billboard.com as a Top 10 Country Artist to watch in 2014. With over 200 shows a year, dedicated fans even follow the band to Mexico. His music clearly leaves a lasting impression. But at the end of the day, Brian says "I'm just a common guy, a working-class kid from a Twin Cities suburb who loves to put on a good show and hopefully write some good songs in between." Now let's see his spotlight answers below! 
1. How did you get into music and start GB Leighton? 
"I knew I wanted to be in music when I was 10 and heard Bruce Springsteen singing 'Santa Claus is Coming to Town.' 
When I was 14 I picked up the guitar and started writing songs. I knew I wanted to write songs because of the way certain songs made me feel. It was a freedom that allowed me to express my feelings in an easier way. 
At 15 I joined a neighborhood basement band and started playing my songs as well as cover songs. 
After high school, I came up with the name GB Leighton, by mixing up my initials with my middle name, and focused on forming a band to back me up and roll with my songs." 
2. What's your favorite song you've written/performed? 
"'Come Alive' has always been a song I was proud of writing. 'I Am' is also a recent one I like. Anything off the new album Believe I love playing live. 'Don't Let Me Go' is pretty powerful. 'I See You' is fun to sing live. I like starting the show lately with 'Lost.' I think it's a good opener." 
3. What do you like to do when you're not playing? 
"When I'm not playing, I'm mostly a homebody. I like hanging at home, or working in the garden. I write often, but at weird times. It comes to me when it comes to me."